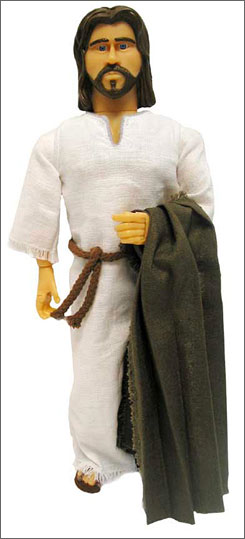 DEDICATED TO ALL THE MENTAL CASES WHO HAVE TURNED JESUS INTO A WARMONGER AND A PURVEYOR OF HATE. THIS IS NOT UNLIKE A COMEDIC ROAST. BUT IF YOU'RE A REICH WINGER CLAIMING TO BE A "CHRISTIAN" WHILE YOU HAUL SOME CROSS THIS EASTER AND FLAGELLATE YOURSELF, WHILE WANTED TO BEAT ON LIBERALS, GAYS AND UPPITY WOMEN TOO, THIS EASTER DAY, YOU'LL NEED AN EXTRA BRIMSTONE AT THE END OF THIS. SO JUST SAY, "SCRIBE, CAN YOUR SUPER SIZE THAT?" YOU'LL NEED IT.
Boys and girls! Are you unsure how to dress out your Jesus doll? Scribe is willing to help. Here's how you will make your not so "fun" fun-da-(their very) mental-ist Mommy and Daddy proud because you… NAILED it! Or considering how un-fun they are, is that just… wrist-ful thinking?
To pick our Jesus doll and dress him, let's take some of our cues from history and adults shall we? Just send your Mommy or Daddy to the Toys Are Very Very Expensive store for, first, the…
HISTORICAL COLLECTION
Post Crucifixion
Some denied him, some believed there was a secret knowledge, some believed he who died on the cross was no longer Jesus, or he would return in THEIR lifetime. (And in 2,000 years how little THAT has changed? Waiting… waiting…. waiting…) But most of all: many believed what he SAID less important than starting another big Jesus club focusing in on what was done to him, creating rituals based on his actions, or not much at all, really: and OF COURSE keeping out the riffraff who think differently, or think at all.
Of course none of that REALLY had to do with Jesus, so this very expensive dress out the doll set comes with NOTHING because too many of these Jesus Clubs are for mindless followers, not thoughtful ones.
Here are your other options boys and girls… (Some of these might be ACTUAL dolls. Scribe just changed the names and the descriptions to embarrass the hell out of idiots who would consider selling such.)
The Jesus is Pro-Torture Doll
Boys and girls! What about dressing your Jesus out in Inquisition garb? KINKY. Or maybe in the we need to burn witches? YAY!!!! BURN WITCHES!!!! Especially all too convenient "witches?" For that we need a magistrate with robes, so this every expensive kit includes black robe with light up sign that says, "Burn her! Burn her!"
You know ALL women are lustful servants of Satan if they don't bow to our manly wills and opinions, right? Our Lord Guy On High, from the Excellence in Broadcasting Network, hath said so. Take your time, what's the RUSH… wink, wink.
Of course these judges, like Lord Limbaugh, wouldn't turn down any "favors" from the accused that may get them a reprieve. But LORD help them if they take the pill, or need help from getting protected from getting pregnant from rapists, well, who probably LOVE listening to Lord Limbaugh.
This version of Jesus comes with napalm and a flame thrower for a more modern touch. There's also the college edition for those students who go to parties and take advantage of almost dead, drunk, girls. They too, probably, LOVE Lord Limbaugh.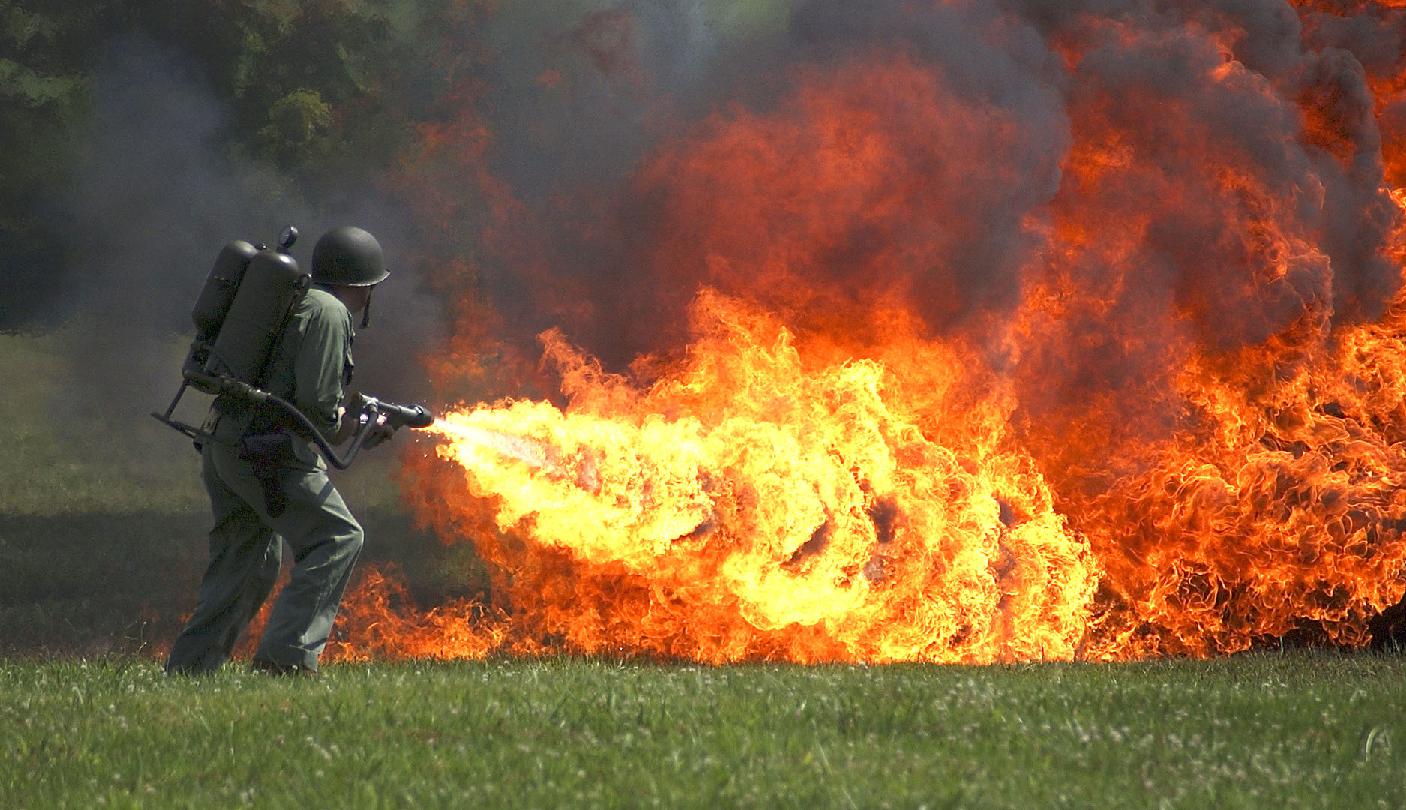 Courtesy arrowheadequipment.webs.com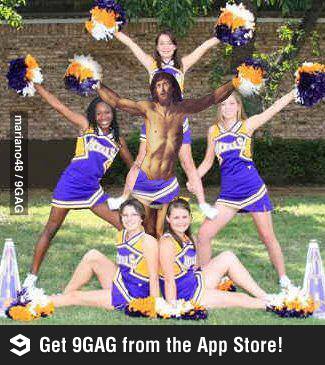 Courtesy 9gag.com
How about the…
Jesus wants us to kill, rape and plunder doll
Kind of like the last, only more war and sports oriented, so it also comes with Jesus wants my team to win fare'. And of course, what would this be without an app, or a screen saver, or one of those kinky cheerleader skirts to dress those obedient females with?
This is a VERY popular doll, and has had many accessories over the years. The Germans had their very suave Gott Mit Uns belt buckles, the Southerns and the Northerners prayed that they might best blow apart in the most hideous ways their brethren from the other side. Since God and Jesus swap out with violent intent with these type of "Christian:" like bumpers on similar war tanks, the accessories should please everyone. Can't have a bazooka" How much much would be a flame throwing rock tossed by a catapult be? What, no cloth for water boarding? Scribe hears a rack and screw gives converting heretics a new TWIST.
And,of course there are plenty of sports accessories too.
BE AWARE SPORTS PEOPLE: don't bother buying for your kid if you're a fan of the Cleveland Browns. You DO know your Satanic team will NEVER go to the Superbowl, right?. HEY THEY'RE FROM CLEVELAND. Also: don't buy if you want your tyke to be a fan of the Texas Rangers. George, Junior owned them: proof the state is DAMNED for an eternity. Everything he touches turns into Lucifer excrement.
Now this Jesus doll that helps with war and sports… (Is there all that much of a difference, despite the killing, the maiming and…) …IS quite expensive because it comes with blessed footballs and baseball bats, excuses for rape, holy water sprinkled tanks, Liberal-devil defeating drones… (Because NO ONE wanted us to kill, without even knowing who we were killing, like Jesus did. You do know he killed all the people who manned those tables after tipping them, right?) …and multiple doomsday devices. One doomsday device we're fond of is a control for all those robots who go on FOX and push talking points: to say whatever will get us into a war… but only if it's good for the corporations and the REICH Wing adores the idea.
BUT: you CAN'T afford it.
However your politicians can.
More up to date dolls

And, of course, then we have Jesus came to America kit, complete with an endless supply of magic underwear, in case your Jesus doll soils himself with HOLY CRAP! How about the God Hates f_gs doll, da REAL whacky Westboro Church edition? Complete with offensive signs to carry, airplane tickets and a bus to carry all to those all important funerals. Also a bedpan/dump bucket especially suited to decorate the graves of fallen soldiers.  Then there's the Jesus is a Republican/Liberal/Teabagger/Socialist/Capitalist/Conservative/"free" market/Libertarian doll. Comes with American flag, inside clothes, on each shirt, is embedded a voice module: kind of like cards you buy that start playing music when you open. Only these modules only spout politically correct propaganda.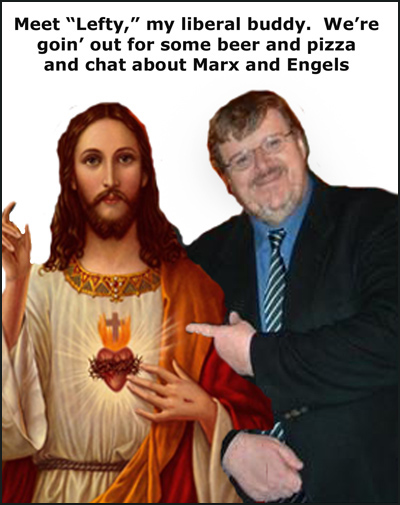 Courtesy hornedquad.deviantart.com
Yes, boys and girls, so many ways you can dress out YOUR Jesus doll!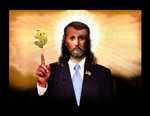 Courtesy hornedquad.deviantart.com
Or maybe Jesus would be more concerned with how you dress out yourself?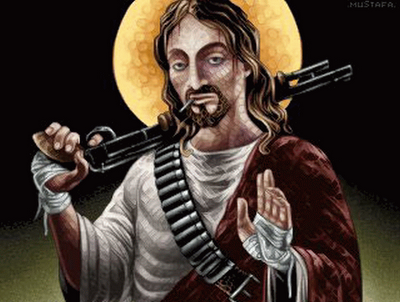 Courtesy conservativejesus.com